2451 W. Mason St. • PO Box 10886
Green Bay, Wisconsin 54307-0886
tel. 920.494.9676 ~ fax. 920.494.6162
toll free 1.800.236.9676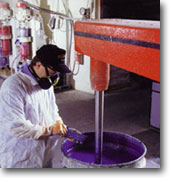 Our Goal
To maintain a facility that promotes excellence in product, service, dependabilty, and value while satisfying the needs of our customers through research and development and quality control with compliance coatings that preserve our environment.
Our Pledge
To provide a work force challenged by today's technology and eager to respond to the ever changing requirements of our customers. At Parker Coatings, Inc., dedication is a way of life -
Quality is our Commitment.
Our History
Starting as a marine and machinery coating manufacturer in Oshkosh, Wisconsin in 1875, Parker Coatings has grown to be one of the leading and most complete high performance coating manufacturers today. With manufacturing, research and development, testing, and quality control facilities in Green Bay, Wisconsin, Parker Coatings now provides complete trowelable and thin film coating systems for such industries as pulp and paper, chemical, food, pharmaceutical, containment areas, and many others. Our years of experience and case histories can help solve your high performance coating needs.